Crossings Center Two
Commerce Crossings has emerged as the premier, high-quality business park in Louisville. Our central location gives your company an advantage in access to your employees and customers.
This 75,000 SF building makes a statement to your customers and employees. The form and functionality of this facility will also appeal to your bottom line. Featuring high-end architecture, extra landscaping and extensive glass in office areas, this is a building you will be proud to call home. Insulated walls and roof, plus energy efficient heating systems, keep your operating costs low. A portion of this warehouse is air-conditioned.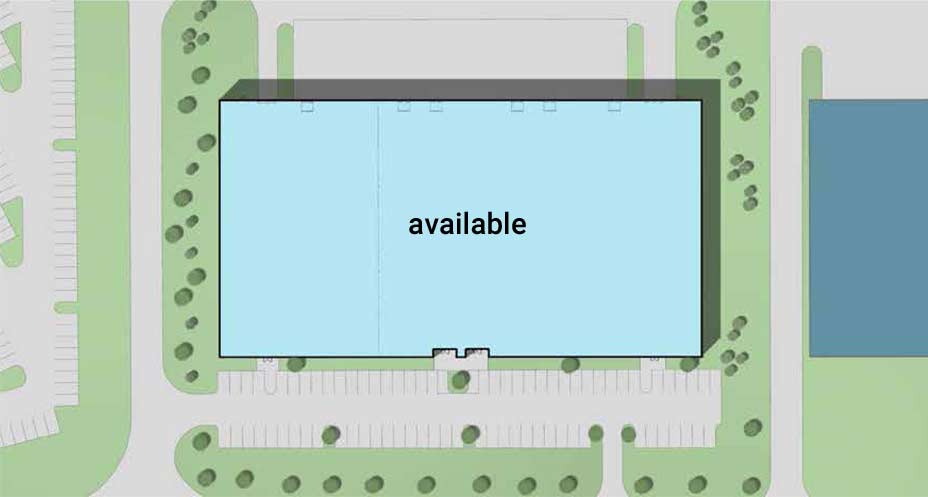 Building Features Include
Office space to suit
Parking – 100 spaces, expandable to 200
ESFR sprinkler system
Restaurants, banks and shopping adjacent to park
Close to Louisville Int'l Airport and UPS "Worldport" Air Hub (6 minutes)
Excellent nearby workforce
Public transit (TARC) throughout Commerce Crossings
Park-like setting
Ready for occupancy
Building Specifications
Building Dimensions: 375' x 200'
Column Spacing: 50' x 50'
Clear Height: 28' - 26'
Walls: Insulated, tilt-wall concrete
Roof: Fully insulated, 15 year warranty
Lighting: 35 foot candles
Energy efficient heating and ventilation system keeps operating costs low
Electric: 1,000 amps, 480/277v, 3-phase
Docks: 6 dock doors with Fromelt shelters and 35,000 lb. Rite-Hite levelers
2 large drive-in doors
Strategic Location
A central location at I-265 and I-65 on Preston Hwy. Easily accessible by all of Louisville's central workforce and businesses.
In 15 seconds, you're on the I-265 ramp and less than 6 minutes from UPS "WorldPort" Air Hub. Restaurants, banks, shopping and other amenities for your business, surround this premier Business Park.
Both I-265 and I-65 are less than 1 mile away
6 minutes from UPS World Air Hub, which is adjacent to
Louisville International Airport
Less than 12 minutes from downtown Louisville.
15 minutes from southern Indiana.
15-20 minutes from Hurstbourne Greene & Bluegrass Park
Within 20 minute commute of 91% of region's workforce
Contact Capstone Realty
Capstone Realty
11601 Main Street
Louisville, KY 40243
502.254.5001 - tel
502.254.5131 - fax
info@capstonerealty.com